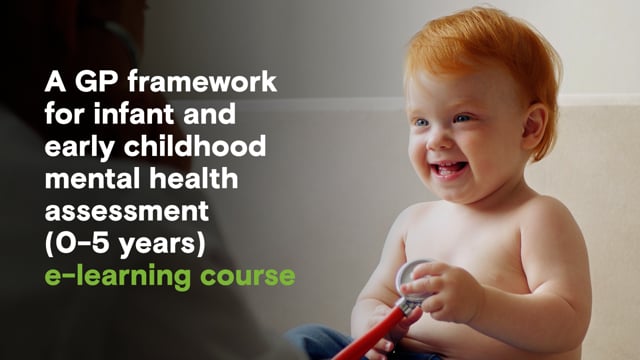 This infant and child mental health assessment and management e-learning course focuses on the identification, assessment, care planning and support required for children aged 0-5 at risk of or experiencing mental health difficulties. The course is built around three key areas of evidence-based practice – research evidence, practitioner experience, and child and family partner feedback.
This course has been specifically designed for GPs who are seeking to enhance their clinical practice in mental health when working with infants and young children aged 0-5 years.
How long does this course take?
Core learning
This course will take you approximately six hours to complete, including the written content and all videos.
Further reading
Additional time can be spent to view the supporting resources included throughout the course.
You can undertake the course across multiple sessions at your own pace. The last screen you visit before logging off will be bookmarked and you will have the option of returning to that screen when you next log in.
This course is accredited with the RACGP as a CPD Accredited Activity and will attract 40 CPD points.
The course is also accredited by the General Practice Mental Health Standards Collaboration (GPMHSC) as a stand-alone Clinical Enhancement Module (as part of the MHST modular pathway) and with ACRRM as a PDP Accredited Activity.
See the GPMHSC website for a step-by-step process for GPs interested in becoming accredited Mental Health providers and claiming the MBS MHST item numbers 2712 – 2717 (or equivalent non-VR GP numbers).