What is Emerging Minds Learning?
Emerging Minds Learning is the home of free online training courses to support children's mental health and wellbeing. Our innovative courses are designed to help professionals in health, community and social services to grow their skills and confidence in working with children (aged 0-12) and families.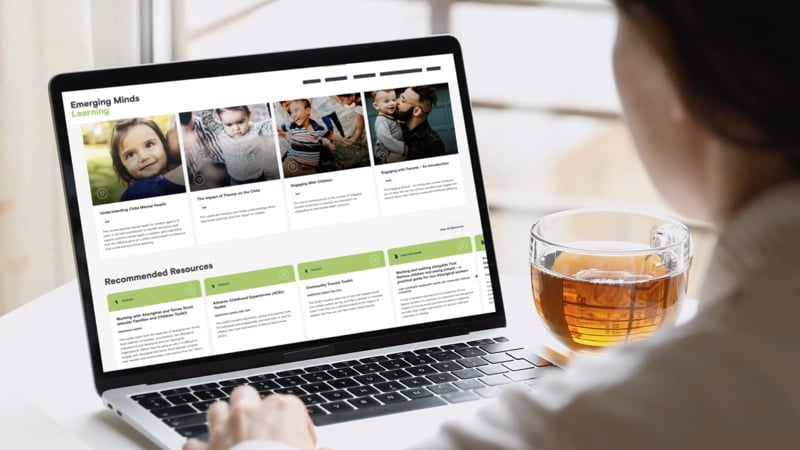 Whether you work with children, adults or families, you have a vital role to play in strengthening children's resilience and wellbeing. Emerging Minds' online training courses are interactive, engaging and contain video demonstrations designed to help you put your learning into practice.
If you're just starting out, our foundational mental health courses will equip you with a basic understanding of the factors that impact on children's social and emotional wellbeing. Our practice courses build on this knowledge, using scenarios, guides and reflection activities to support and grow your practice.
Choose from a wide variety of topics, including:
infant and child mental health
trauma
family and domestic violence
alcohol and other drug use
working with Aboriginal and Torres Strait Islander families
parental mental illness
disability
natural disasters and community trauma events
chronic physical illness
intergenerational mental health
child-aware practice
working with children and with parents; and more!
Who are these courses for?
Emerging Minds Learning is for health, social and community services workers interested in supporting infants' and children's mental health.
Our online training pathways have been tailored to suit your individual sector's needs. Simply select your profession when you create your account, and we'll provide you with a curated list of courses and resources. If you'd prefer to choose your own adventure, you can browse our full library of mental health courses and resources and add them to your favourites list.
Plus, you can learn at your own pace, anywhere, anytime – on mobile, tablet or desktop. Emerging Minds Learning remembers where you left off, saving your progress for next time.
Why is child mental health important?
Good mental health gives children a sense of security and enables the steady development of essential life skills, such as trust, independence and resilience. But children also rely on the adults around them to support and safeguard their social and emotional wellbeing. Research shows adult adversities can also have significant impacts on children in the family. Without support, these impacts can lead to mental health difficulties throughout childhood, adolescence and adulthood.
A 2015 survey found almost 14% of Australian children aged 4-11 experienced a diagnosable mental health condition, yet only 16% of those children received help from services . The COVID-19 pandemic has made it even harder for children and families to access mental health treatment, with wait times of up to 12 months for specialist services.
Early intervention is critical, but long wait times mean that more and more children are at risk of missing out on the support they need to overcome life's challenges. By identifying and supporting your client's role as a parent and engaging children in the conversations and decisions that affect them, you can support the whole family.
Everyone can help improve mental health outcomes for Australia's children, regardless of the service or setting they work in.
Check out our range of courses below, then login and start learning today.