In a previous episode, psychologist Penny Sih shared her thoughts about child mental health assessment and engagement and ways to support a child to live their 'best life'. In this episode, social worker Ali Knight and child and family partners Jess and Emi continue this conversation. They explore child mental health assessment and engagement practices that help families feel more confident and engaged in the therapeutic process, which in turn helps them to live their 'best lives'.
When a child and parent first arrive to meet with a professional, they often feel anxious or even reluctant. They might feel like they're going to be told off, or lectured, or made to discuss subjects that make them feel uncomfortable. Ali, Jess and Emi discuss the practices that help children to overcome this initial anxiety, to engage fully within the practice environment, and to become holistically involved in the decisions that affect their lives.
In their role as Emerging Minds Child and Family Partners, Jess and Emi have made a significant contribution to Emerging Minds' online training courses, webinars and practice papers. Ali Knight is a social worker with 25 years' experience, specialising in work with infants and children in child protection, child development and trauma-related services. All three were instrumental in the development of Emerging Minds' online course, Practice strategies for assessment and engagement.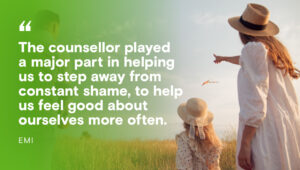 In this episode you will learn:
how to set the scene with children who might not be happy about coming to a professional environment, so that you can increase their sense of comfort and confidence and give them the time and space that they need [02:52]
how to help children and parents consider the strategies that already work well for them, rather than focusing only on the problems that they are facing [05:37]
how a holistic understanding of the 'whole child' – their preferences, relationships and hopes – can influence practice [14:16]
how to pick up on cues that children provide throughout the engagement, to ensure sessions are flexible enough to cater for the child's needs [18:29]
why it's important to include children in strategies that can be replicated at home or at school [23:15]
Further information and resources:
Practice strategies for assessment and engagement (online course)
Practice strategies for formulation (online course)
Helping children to live their 'best life' – part one (podcast)
Helping children to live their 'best life' – part two (podcast)